Torque Wrench
Preset
Features no scale on the body of the tool.
Because there are no scales, a torque tester and a specialized adjusting or thrust ring tool are required to set the torque value.
Ideal for mass assembly applications where one torque setting is dedicated to one tool.
Since this type requires additional equipment to change the torque, it prevents the torque setting from being changed by unauthorized personnel.
Preset styles have lower maintenance costs compared to other types of torque tools due primarily to the fact that there is no scale to maintain and calibrate.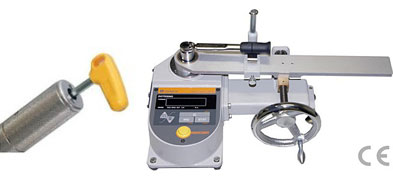 Requires torque setting tool and torque tester to change torque value.
Tools that require a thrust ring tool have an end cap that must be removed and a thrust ring screw that is loosened, then the thrust ring tool is used to fit into two holes to move CW or CCW to increase or decrease torque value. For tools that take adjusting keys, the key fits directly into the end of the tool. The wrench is checked against a torque tester to verify torque value. Adjustments are made until the required setting consistently shows on the torque tester.

Examples of Preset Models: SP, RSP, QSP, CSP, QSPCA, MQSP
Adjustable
Features an external scale that can be easily changed by moving knob or twisting body to set a particular torque value.
The torque setting can be easily viewed and changed by turning end knob to move the scales.
Because of its easy torque setting style, it can be susceptible to unauthorized or inadvertent changes to the torque setting.
Ideal for applications that require a variety of torque settings using one tool.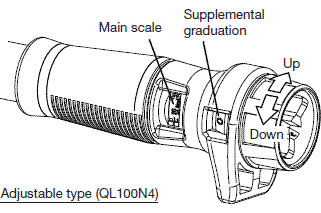 Turn end knob CW to increase torque setting and CCW to decrease; lock in place with wing nut locker. Easily view torque setting on scales.

Examples of Adjustable Models: QL, CL, DQL, MTQL, QLLS, MQL


Match the marks and keep the adjuster pulling. Twist adjuster. The adjuster will return to the original position after releasing it. The adjuster will slip without pulling.
How to read scale
Add the value shown on the main scale and the value shown on the sup. graduation. (only for the torque wrench with main and sup. Graduation)
The above example indicates 48N • m because its main scale shows 40 and sup. graduation shows 8.


Pre-lock
Features main and supplemental scales, but no adjustment knob.
The torque setting can be easily viewed and changed but requires a standard hex key to move the scale to the required torque setting.
This type combines the advantages of the adjustable and preset types, by easily setting the torque value without a torque tester yet keeping it secured by requiring a key for setting the scale.
Ideal for applications that require quick visual confirmation of the torque setting, variety of torque settings on one tool, and the added security to prevent inadvertent setting changes.

Use a standard hex key to move the scale to desired torque setting.

Examples of Pre-lock models: PQL, PCL, MPQL, PQLLS