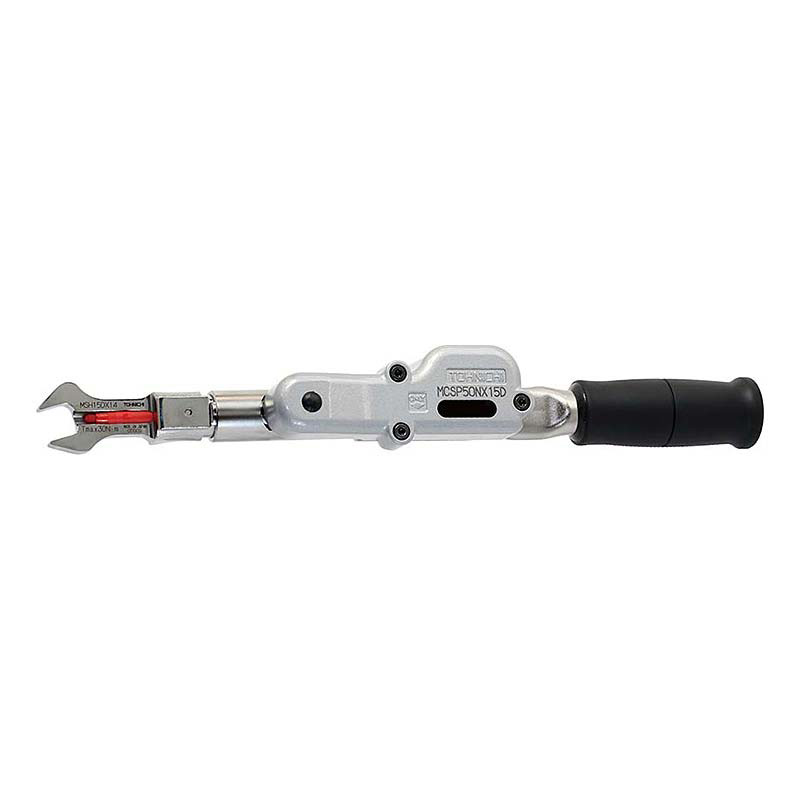 MCSP / MPCL Error Proofing Torque Wrench
Interchangeable open end head marking torque wrench. When the set torque is reached, the wrench automatically leaves a mark on nuts (bolts) to provide evidence of proper tightening.
The MCSP is a preset type interchangeable open end head marking torque wrench. It automatically marks a corner of the nut (or bolt) on the side, when the set torque is reached.
Conventionally, the tightening and marking procedure is a two-step process: (1) Tighten with a torque wrench; then (2) Make a mark with a pen. Tohnichi's MCSP prevents a mark from being made if tightening was forgotten.
The preset head is ideal for successive tightenings at the same torque.
MCSP series torque wrenches come in a selection of three body types, permitting tightening torque applications from 10 to 140 N • m.
MSH15D series interchangeable heads for the MCSP series offer a selection of 14 sizes. Interchangeable open end head dimensions (width across flats) of nuts (bolts) range from 12 to 32 mm.
MSH15D series open-end interchangeable heads are more compact than those in the regular SH series, making them useful for marking where dimensions are restricted.
Uses a disposable marker, so no need for ink refills. One marker performs about 2,000 markings. Marker replacement is easy. Also suitable for vertical marking.