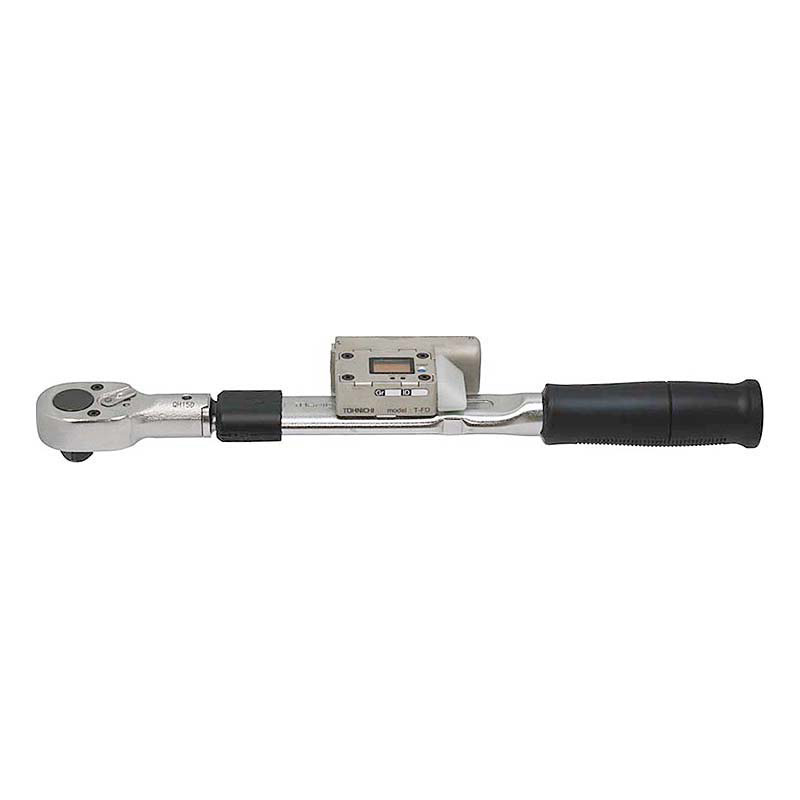 FDD / FD Error Proofing Torque Wrench
Wireless transfer of tightening torque data at the time of clicking. Immediate pass/fail decision offers the highest level of workability. FDD facilitates tightening work with even higher reliability backed by two rounds of tightening detection function.
Defect prevention with a large pass/fail decision LED: Transmission error or tightening torque defect can be immediately known from this large LED.
Battery life is five times that of the conventional product.※: Continuous use time is significantly increased to 24 hours from 5 hours in the case of conventional FHD. It can be used for about one day without changing the batteries, which not only reduces the battery cost but also eliminates the effort required for replacing the batteries. (*In the case of FD model. Continuous use time in the case of FDD model is 12 hours.)
Conventional receiver/setup box can be used: If you are having conventional FHD/FHDS, you can use version [Ver.V01A] of your receiver R-FHD256 and setup box SB-FH256. Therefore, you can minimize the migration cost.
LCD display of the transmitter would show the tightening torque.
Compact transmitter with enhanced workability: Transmitter has been made compact compared to the conventional product. Starting from 25N•m class torque wrench (example: CSP25N3) it can be loaded, and it can be used in a small place or for tightening at a small torque.
Setup can be easily done from the computer: Group settings/ID settings/setting of the upper and lower limit of tightening torque, etc. can be made from "FD/FDD parameter setup software". You can download the setup software from the Tohnichi website free of charge.
[Features of FDD] "Two rounds of tightening detection function": By mounting a gyro sensor and monitoring the angle, it is possible to prevent the tightening of bolts two times. Error proofing for just managing the number of times of tightening or simple tightening torque data management offers highly reliable torque management. (※Remodeling from FD model is also possible.)
Marking torque wrench "MQSPFD / MQSPFDD" equipped with the FD/FDD transmitter, with which you can ensure in a later process or even after shipment that tightening was correctly performed; can be custom-made after receiving an order.
As of October 2016, can be used in Japan, the U.S., Canada, Thailand, Malaysia, Indonesia, Taiwan, Mexico, Vietnam, China, the EU, and South Korea.
Tohnichi's interchangeable head torque wrenches can be used with our interchange head lineup which offers the best selection in the world, making these wrenches ideal for your work.